A Brief Conversation with The Viridi-Anne Designer : Tomoaki Okaniwa ( December 2017 )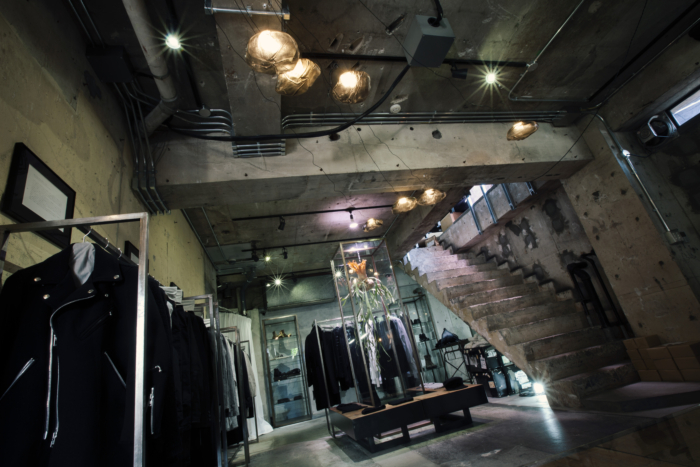 Late 2017 just before Xmas we sat down with The Viridi-Anne designer Tomoaki Okaniwa (most people call him Tomo) in his newly redecorated Flag-ship store.
The store is actually located quite near my place in a very lovely residential district called Ebisu which is a popular area for sophisticated dining, drinking and taking things easy.
It is a very laid back spot despite being located right next to the controlled chaos that is Shibuya.
The new S/S collection was just about to go up on display and we got to wear a lot of the new designs for our Twin Peaks inspired "Glass Box" shoot.
One of the stand out pieces is a light jacket with very large pockets on the front.
At first glance I thought the pockets were there just because they look very cool but on closer inspection it turns out that the sleeves are removable and the pockets are there to keep them safe when not needed in hot weather.
Thus convenience becomes beauty.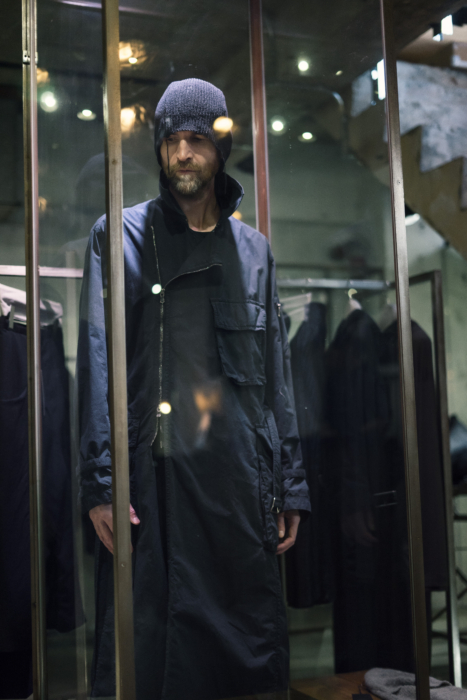 What I really like about this collection and Tomo san's design in general is that there are a large variety of very nice outer pieces and even some long coats which is quite rare these days when most brands play it very safe especially for S/S collections and hot weather.
Tomo talks about his admiration for sneaker design and how they are both cool, useful and affordable and I think his clothing is also largely like this.
It does not really fit into any specific categories as it is artisanal, high-quality and very wearable but i like to term it as "time-less street elegant" if anything:August Sander meets sneaker culture.
Tomo is quite possibly one of the nicest, most laid-back people you will ever be lucky enough to meet in "fashion" and I hope that this comes through in this short interview which took place on the plain white comfy sofa located right in the front of the store as we were serenaded by the usual neo-classical and ambient techno sounds of the store's soundtrack.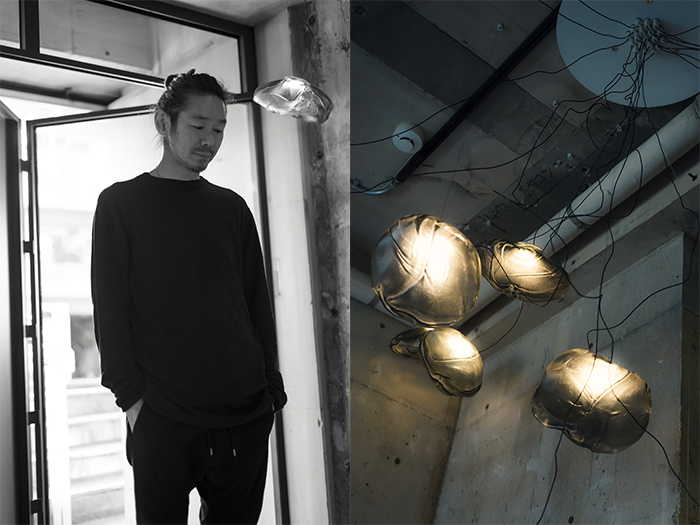 TRANSGRESSIVE : You recently had your Flagship Store remodeled and redecorated.
Was there any particular reason that you chose to do it now and what were the inspirations behind it ?
Tomoaki Okaniwa : The new decoration was inspired by and is a collaboration with the Vancouver based lighting company Bocci.
The collaboration came out because of a weird case of fate / synchronicity :
About one year ago I was visiting Berlin after our Paris exhibition and my friend who is in the art world had one of their smaller pieces in his apartment.
Then I happened to see a very large Bocci piece in a cool select store there.
Bocci make very dramatic and unique, hand-made glass pieces and i was very impressed by what I saw Their work creates a very refined and sophisticated feeling I made a note of who they were and discovered that they are actually quite famous in design circles and even have pieces showing in the V and A in London.
The story might have ended there but a couple of months later we happened to receive a personal e-mail directly from their CEO Randy who said he said he had bought some pieces by The Viridi-Anne in Milano and really liked our collection.
This e-mail was absolutely unconnected with my interest in his brand.
It just seems that we both discovered and liked what the other was doing purely by co-incidence which was very pleasing indeed and this collaboration was the natural next step for us.
Bocci have created a large chandelier like piece for us which you can see as soon as you enter the store.
For me it almost feels like you are entering some kind of alien nest when you see it.
The lights themselves are very interesting as they were hand-blown inside flame-proof material to create a really unique and dramatic effect which works really well for our Label and the store.
Bocci is useful art and that is what The Viridi-Anne aims to be too.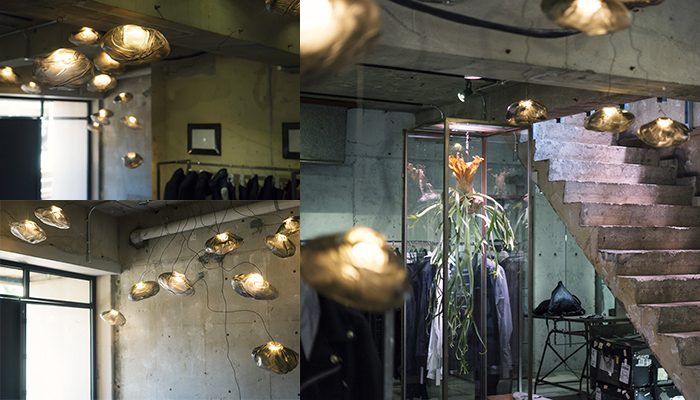 T : You will soon launch your new S/S 2018 Collection world-wide.
Can you please tell me if there is any particular concept behind it and what were the ideas and themes that informed you while you were creating it ?
T.O : The theme of this new collection is "correction"
We actually wrote "collection" on the invitations and then crossed that out and replaced it with the new word.
The idea is that we are constantly trying to improve on our past collections and evolve gradually as a Label rather than suddenly changing our image or jumping on some new trend bandwagon.
Recently we are trying to have one yearly theme to cover both an S/S and an A/W collection.
So this A/W collection is actually the part 2 to complete the previous A/W 2017 / 18 idea.
I always want to keep improving what we are doing and adding details from past collections to new materials and ideas that have become available recently.
I also like the process of editing what we are doing creatively to make things stronger and better.
I really like this current S/S collection because I feel it has more range and variety in materials and design than we have achieved in the past.

T : The Viridi-Anne (TVA) has been steadily growing and evolving since you first launched the label in the back-streets of Harajuku approximately 16 years ago and took the brand to Paris in 2005.
You have been selling constantly world-wide since then.
I think that lots of things have changed since you first debuted : many brands and stores have come and gone.
Can you tell us what you think about the current state of menswear and where you think that it will be going in the next few years ?
T.O : I never like to use the word "Fashion" or "Fashion Designer" when talking about what we do.
When i think about that I always like to use the phrase "Yo-Fuku-ya" which basically means a "purveyor of western style clothing"
I like to think about making useful and wearable clothing rather than things that will soon become obsolete after a season or two.
So maybe this is why we can stand apart from a lot of the changes that you mention and just keep doing our own thing.
At the moment I think that we are in the midst of a transition period as street wear is very popular which makes things a little harder for brands like us.
However I think the secret to our survival is that we have never really been very greedy.
We are not interested in getting too big just for the sake of it.
We are happy to keep on creating clothing and collections for the people that like what we do and we feel no need to jump on trends to get big for a few seasons just to fall back again when the fashion crowd choose to move on to the next fad.
Right now we are still in the middle of the sneaker boom period which interests me a lot Sneakers are good because they are cheap, cool and comfortable and I do not see them losing popularity anytime soon This is not a trend but an evolution.
I want The Viridi-Anne to be just as affordable, comfortable and cool as the sneakers.
But I also want our clothes to be timeless and never, ever "mode"
T : You are one of the nicest and most laid-back people that I have met during my time being involved in this so-called "Fashion Business".
Not very egotistical at all unlike a lot of other Fashion Designers who seem to have this as their driving force.
I was wondering if you ever feel slightly out of place or even that you may have chosen the wrong job for yourself at times as you move through the fashion world and all its various challenges ?
T.O : Well, I don't really like to think of myself as part of the "fashion business"
I just like creating and making clothing Cutting and manipulating the fabrics Making cool and interesting pieces for people to wear and enjoy.
Also I try not to compare myself with other people, Designers and Labels though i do like to compare our designs with others We just like to do what we do and keep getting better at it.
T : Lastly, for your latest official S/S 2018 look-book you seem to have chosen quite an interesting and unusual model.
I know that some people have been wondering about this on the internet and I was wondering if you could maybe give us a little background info about the look-book and the model you chose to represent this new collection ?
T.O : The model is a young German guy called Benjamin who was working for the first time in Japan this season.
There was no big plan or statement behind our choice.
Benjamin just happens to have lost his leg at age 11 due to bone marrow cancer but because of modern technology and his natural style he is totally able to work as a model without it becoming an issue.
His agency let us know about his situation when we requested him and we said it was not a problem at all.
Benjamin seemed to really enjoy our session and felt very relaxed during the shoot so for that last shot he asked us if we wanted to shoot his naked prosthetic without the covering which makes it almost impossible to tell there is anything special about it.
I agreed and I really like the way the shot came out.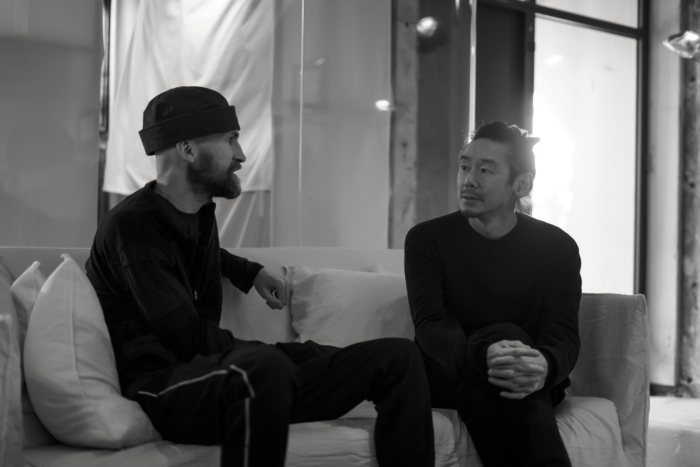 Selections from the excellent new S/S 2018 collection are currently available in the STORE
Also featured HERE in our "THE GLASS BOX" Editorial
Please expect new words and images for A/W 2018 very soon
http://www.viridi-anne.jp
All photography : Steffen Yoshiki ( @steffenyoshiki )
Styling / Art Direction : Marc Stealth ( http://www.stealthprojekt.com )